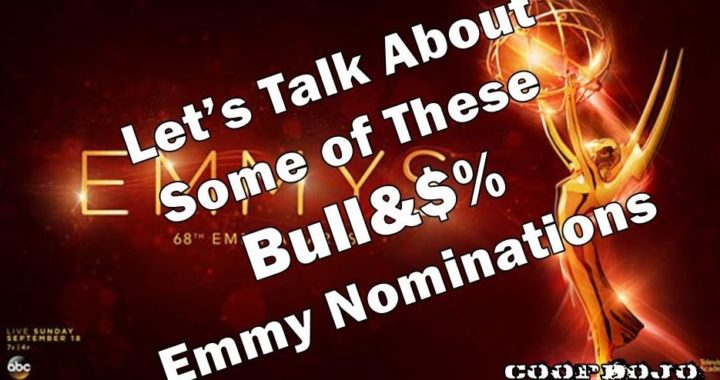 Let's Talk About These Bulls&*% Emmy Nominations
The Emmy Awards will be presented this Sunday and we're looking forward to seeing a spirited performance by Stephen Colbert as the host.  To us, there shouldn't be a lot of surprises this year.  The Handmaid's Tale should sweep a lot of awards (particularly drama, best actress and best supporting actress) unless the beautiful but meandering Westworld pulls a fast one.  Atlanta should sweep up the comedies (Best Comedy and Best Actor, anyway) unless Veep's uneven season steals the election.  Judith Light sure as hell better win best supporting actress in a comedy.  Of course, lot of our favorite shows – Outlander, Orphan Black, Game of Thrones and Rick and Morty – aren't even eligible this year.  That said, there's a lot of things we're already irritated about just in the nominations.  Here's our list of bull$%& nominations and snubs.
No Nominations for Veep's Funniest Cast Members
I love Veep's cast and generally the show, but this was easily the worst season of Veep's long run.  It turns out, Selina out of office is pretty one-note: she's nice to people who treat her terribly and terrible to people who treat her nicely.  Why anyone would tolerate her behavior when she's out of power and without any real relevance is utterly baffling.  Almost all the characters seemed louder and caustic rather than subtle and nuanced.  The only two bright spots this season were Timothy Simons as Jonah Ryan and Sam Richardson as Richard.  Their chemistry, their characters' stories, and their performance were the reasons I stuck with the series this season.  These guys carried this season, and the fact that neither were nominated is a goddamned impeachable offense.
Winning an Award for the Most Boring Celebrity Appearance
I can't recall a show wasting the presence of a truly big star like Fargo did this season.  Ewan McGregor is an amazing actor with powerful charisma and a great deal of range.  To cast him on Fargo and then give him virtually nothing interesting to do is one of the most wasteful decisions I've ever seen.  The show seemed so enamored with casting him as two conniving identical twins that it forgot to write him something interesting to do.  He spent the whole season in the background of the action watching other characters who were given meatier parts and more interesting plotlines.  I can understand why McGregor would have signed up for this role: Fargo gave some amazing work to Billy Bob Thorton, Martin Freeman, and Kirsten Dunst.  But not him.  I am actually angry about how McGregor was wasted in this role and I kinda hope he's a little angry too.
The One Interesting Character In Better Call Saul Gets Snubbed
Talk about a thankless task.  Better Call Saul's version of Breaking Bad's Skylar – the grating moral conscience of the show – is Saul's brother Chuck played by Michael McKean.  His role is complicated; he's suffering from a complex psychological condition and is bizarrely obsessed with exposing his small time brother as a fraud.  It's a really dumb storyline but somehow Michael McKean makes it work, playing a character who is exceedingly competent in the courtroom and sympathetically disabled by his condition.  Astoundingly, most every other actor on the show secured a nomination while the hardest working actor on the show was utterly ignored.  In three seasons, Better Call Saul has never established a reason to exists as a show other than to parade around characters I miss from Breaking Bad.  Michael McKean is the one fascinating character on the show, and to overlook his work his criminal.
Getting a Nomination for Your Worst Season Ever
A lot of great shows had their worst season ever this year and that didn't stop them from getting repeated nominations.  Let's start with the "limited series" Fargo, which was slow and rudderless all season.  We watched Ewan McGregor and Carrie Coon struggle ineffectually against the show's villains over and over again episode after episode with no payoff, which made for profoundly depressing viewing.  Veep also had its worst season; it scattered its cast geographically meaning we saw fewer interactions of the terrific ensemble.  Instead, the show got darker and meaner without getting funnier.  Modern Family and House of Cards are also somehow nominated despite losing their way a long time ago.  Both shows were interesting and exciting years ago but now are pedestrian and ludicrous (respectively).  Does anybody really think either of those two shows represent the best of their genres at this point? Compare Modern Family to Baskets or House of Cards to The Path or Outlander.  There are a lot of shows out there now, and to watch Emmy nominations get thrown at the worst seasons these shows have produced is really grating.  Even worse?  I'm sure at least one of them is gonna win.
The Leftovers Gets Left Behind
I wasn't a big fan of The Leftovers first season.  The premise, that the mysterious disappearance of 2% of the world's population throws the world's religions, governments and families into disarray, was captivating but the first season was plodding, depressing, and irritating (the self-righteous chain-smoking Guilty Remnant really bugged me). The second season, however, was an astounding improvement and this third and final season ended the series in a surprisingly satisfying way.  Amy Brenneman as a heroic ex-cultist and Carrie Coon as the only person to actually find that missing 2% were particularly amazing.  This season was tighter than Westworld, smarter than House of Cards, and much more interesting than Better Call Saul.  It deserved a lot more recognition than it got.