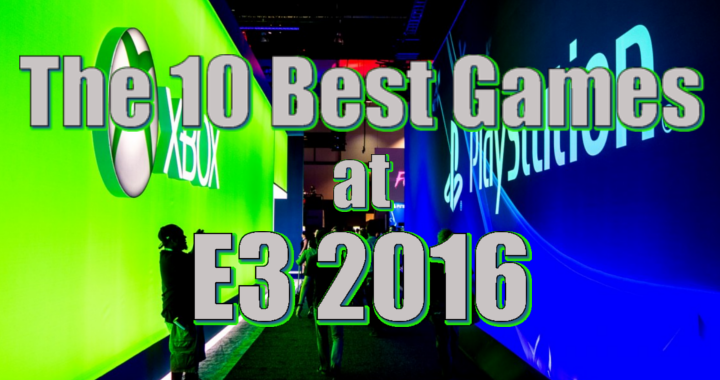 The 10 Best Things at E3 2016
And like that, another E3 is behind us.  Remarkably the show was absent many of the cringe-inducing awkwardness we've come to expect from these shows and most of the reveals were incredibly well received.  It does seem like Nintendo is getting a pass from most critics simply for showing Zelda some more (we'll speak to that in a minute), but overall there is a lot to look forward to and most of that is coming out this year.
Here now are the Top 10 Games at E3.
10. Inside launches in two weeks
How does the small Danish studio Playdead possibly top their 2010 smash hit Limbo?  Well with another cryptic, macabre side-scrolling platformer where you play as a young boy trying desperately to avoid certain death that lurks in nearly every dark corner of this world.
As we understand it, the game offers tons of fun surprises in its life-or-death gameplay that makes going in unaware a much more worthwhile experience.  Tragically this could be a one and done type game due to that but, in a sense, so was Limbo and we have no qualms about paying full price for that title.
Best news of all, this game will be on Xbox by the end of the month.
9. Below is here this summer on Xbox One
We're huge, HUGE fans of Capybara Games.  Sword and Sworcery and Super Time Force are some of the best games we've played in recent years, so we're tremendously excited to see what's next for this team.
Admittedly Below didn't exactly blow us away at first glance.  It's a rogue-like top down procedural generation game with permadeath.  None of that sounds terribly innovative or fun which is what we've come to expect from these guys.
Still, early gameplay from the show looks promising and the news that it hits Xbox One this summer is also very exciting for us.
8. State of Decay 2 adds drop-in cooperative
We can deal with a lot in games.  Pop-in textures, mindless grinding to level up, even the occasional freeze or two.  These are non-issues in a solid cooperative game.  Hell, we even played through Resident Evil 6's wildy-silly campaign as we could do it with a buddy.  True cooperative experiences are that rare that we'll happily suffer through bugs and mediocre gameplay (see Dead Island franchise).
So when Microsoft announced State of Decay 2 would feature drop-in/out cooperative mode for up to four players, this franchise we had completely written off suddenly became of interest to us.  We won't get a chance to play this for some time, but we're certainly eager to get our hands on it.
7. Rare's new pirate game looks good?
We remember having heated conversations in the school lunchroom about the importance of the Stamper Brothers' Rare to Nintendo and how they would triumph over the PSX for that reason alone.  Yes, we were that geeky, and yes, we were terribly wrong.
Rare's seemingly lost their mojo after perhaps Conker's Bad Fur Day and their most notable game in the last decade was simply a compilation of the games they made back when they were still good.
But Sea of Thieves holds promise.  It looks like a great casual cooperative experience where you can work with friends or random players to live out our childhood dream of being pirates.  Whether or not they stick the landing on this one remains to be seen.
6. Deus Ex: Mankind Divided rounds out the summer
Deus Ex didn't make many headlines at E3. Developer Square Enix avoided a major presentation and opted instead to give patient gamers a chance to play a mid-game level that showed off much of the new features of the game including streamlined combat and more verticality to the platforming.  Early reviews are saying it looks and feels good but hard to grasp how good this game will be in a 30 minute demo when it's the game's branching storyline and user choices that compel you to play.
Regardless, it's great to see the formula is largely still intact from Human Revolution and that this will likely be a solid day-one buy for us when it arrives in August.
5. South Park: The Fractured But Whole looks as good as Stick of Truth
The Stick of Truth was wildly hilarious, definitively South Park, and a pretty damn compelling game to play through – and this is coming from someone isn't a fan anymore.  Simply put, the game was way better than anyone thought it could be.
The entire crew is back and in relatively short order with a story centered on lampooning not only superheroes but the entire superhero business as defined by Marvel and their insane theatrical and TV release schedule.  The early demo also revealed additional combat mechanics in the form of movement in the area and range vs. melee attacks.
It could all fall on its face but it appears as not much has changed since Stick of Truth and to us that's great news.
4. Death Stranding because f*** Konami
In what other universe would a game with such a laughably cryptic trailer and such an utter vacuum of actual information still garner such praise from critics and gamers alike?  The resurgence of Hideo Kojima after getting the boot from Konami that apparently is operating under some Brewster's Millions logic to try to bankrupt everything they have for some reason, the return of geek favorite Norman Reedus in yet another game after Silent Hill got canned, this is a significant game for gamers.
So far the game's plot and gameplay could be just about anything so the whole thing could be a wild misfire for Kojima and team alike.  But after getting our hopes chewed up and spit to the ground by Konami after the surprisingly good PT demo, it feels like a victory to see Kojima at an E3 with a game in the works.
3. There's some Dark Souls in my The Legend of Zelda: Breath of the Wild
Geez, expectations are high for this one title and to most it seems as though Nintendo pulled it off.  It's ballsy for a major studio to dedicate nearly 100% of their show to one title, especially when it's still over a year away.
Much has changed from the franchise and Nintendo is billing this entry as the one to break up the familiar Zelda formula.  You can now free roam almost immediately and can apparently finish the game rather quickly if you're good enough.  Wall climbing, resource management including Link's wardrobe to contend with the elements, getting an axe as your first weapon, it certainly does seem to be shaking it up a bit.
We can't help but feel like many of these changes are inspired by the critical and commercial success of the Dark Souls series.  Now in Zelda, you have to find food or rest near, yes, bonfires campfires to recover health. When fighting you can parry attacks to unleash massive damage.  The game even has Link awaken in a mysterious dark blue room called the "Shrine of Resurrection" which sounds very much like a locale from one of the Souls games.
We do feel that this title is getting a pretty heavy pass from the gamer community simply for being a Zelda game.  Nintendo did not have much else to show this year compared to their competition.  Sure, we're excited about a good Zelda game but perhaps this was the time to start the dialogue about how the NX would be different than the Wii U, why we should be fired up to buy one next year, maybe even use this moment to excite some third parties to convince them to make some games to launch with the next console.  Miyamoto saying another Mario is a year or two away isn't quite going to cut it.
Instead we have a pretty looking Zelda that's taking a few risks and honestly should have been ready in time for the Wii U launch in the first place.
2. The Last Guardian is almost real
October 25th.  In four months we'll finally get the chance to play the true follow up to Shadow of the Colossus.  We've been waiting for this since we first heard about it way back in 2007 – the same year of Halo 3, Super Mario Galaxy, and the first Uncharted.  Yes, that long ago.
Okay, we are skeptical that this game could possibly live up to our expectations and considering the development hell it's been through, there's a good chance we have another Duke Nukem situation on our hands so we feel like it's pretty damn important we all lower our expectations.
1. Resident Evil 7 is P.T.'s spiritual follow up
Well, at least its demo is so far.  Capcom made promises that RE7 would be a return to its franchise's horror roots.  After so many ridiculous over-the-top action sequences and cartoonish characters from both the games and films we weren't holding our breath.
But Capcom surpassed our expectations, delivering a truly creepy trailer followed by a PT-inspired game demo that went live on PSN the very same day.  We've been through the demo a few times and, along with the gamer community, are trying to crack the secrets within and attempt to escape that house alive just once.
Finally the game launches on the other side of the holiday in January so we won't have to wait long to see if this promising new direction for Resident Evil is as good as we hope it could be.
For nailing the tone (so far), for whetting our appetites with a demo available to play immediately, and asking us to wait only six months for the real thing, RE7 takes our top spot for game of the show.