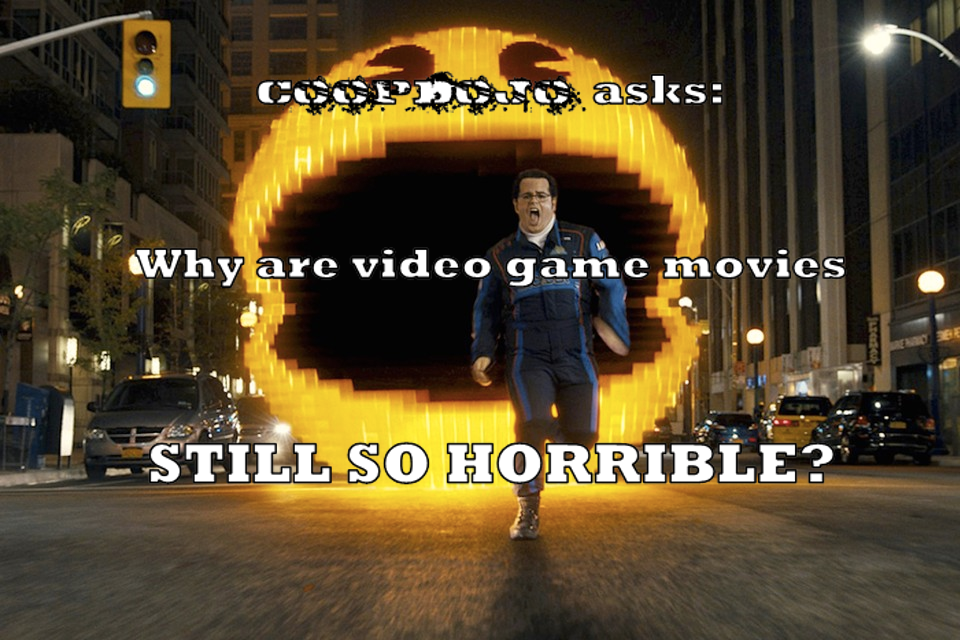 Why Are Video Game Based Movies STILL So Terrible?
We're a week past the Oscars and only a few weeks away from the first of the summer movies with Batman v Superman: Dawn of Justice, so it seems like a good time to ask again why movies based on video games are still so terrible.  Seriously.  We just had a Mad Max sequel that was so good, it won five Oscars (and was even nominated for Best Movie).  A few years ago, we had a superhero movie that was impressive enough to Oscar judges to earn a Best Movie nomination and a Best Supporting Actor win.  Action movies and superhero movies have never been better, and sci-fi movies are arguably reaching the heights they did in the 80's.  But video game movies?  They're still godawful.
Arguably the worst movie of 2015 was Pixels, a lazy CGI-heavy Adam Sandler vehicle which thought that simply having monsters based on video game characters would be hugely interesting to gamers today.  To be fair, Pixels was already facing overwhelming odds by starring Adam Sandler, who seems utterly disinterested in appearing in every movie he makes (whenever he is on camera, he has the same facial expression Chris Christie did at the Donald Trump rally last week).  In addition to starring one of the most disinterested actors working today, Pixels also went out of its way to be insulting to gamers (loser nerds, every one of them!), to be sexist to women, and to be more convoluted in its internal logic than the most bizarre Metal Gear title.  Watch it sometime and see how long you can keep yourself from clawing your own eyes out.  Did the worst movie in 2015 have to feature video games so prominently?
Pixels needs to be a low point; it's possible to make a solid video game movie.  One could argue that Wreck-It Ralph did the same thing to much larger success years earlier, but Wreck-It Ralph didn't simply have cameos, it tried to build a world within video games and didn't treat gamers as if they were all nerds, or geeks, or adolescent males.  Wreck-It also treated the video game characters – to some extent – as though they were actually characters with backstories and motivations, not simply cameos to evoke a nostalgic smile (though, yeah, there was some of that too).
As games based on movies have increased in quality, it's striking how little movies based on games have improved.  We still have two long running series based on Resident Evil and Silent Hill, but both of those series seem to have entirely divorced themselves from their games (and any semblance of reality) some time ago.   We can cautiously look forward to the Warcraft movie this summer, though the trailer is kind of underwhelming and the CGI looks really dated.  There's evidently enough material in the Angry Birds video game to warrant an animated movie this summer which will apparently give Pixels stars Josh Gad and Peter Dinklage the opportunity to finally kill video game movies forever.  Seriously, after Destiny, Pixels, and now Angry Birds, I'm starting to think Peter Dinklage has some kind of vendetta against video games generally.
What's really bizarre is that video games are becoming really excellent at providing a movie-like experience.  And no, I don't mean just the walking simulators like Everybody's Gone to the Rapture or Gone Home (though they did provide experiences on par with movies, particularly Gone Home).  I haven't seen a movie as scary as PT in years, and last year's Until Dawn provided a choose-your-own-adventure style horror movie that was better than any horror movie released last year (It Follows being the singular exception).  I just finished Life is Strange, a game that – much like The Witcher – elicited as strong an emotional response from me as almost any movie did this year.  Games are appropriating the elements of movies (like pacing, character development and storytelling) much faster and with greater success than movies are appropriating elements from games.  If  games can learn how to give me a visceral experience as powerful as Fury Road or as hilariously destructive as Deadpool, I may not have any reason to head out to the theater this summer.
There are some potential bright spots in the future.  Ratchet and Clank and Sly Clooper are both fun characters and building animated movies around them seems like a good bet.  Assassin's Creed and the Tomb Raider reboot – as long as they keep the locations interesting and the action tight – have the potential to be franchise building.  And, as we've already said, Five Nights at Freddy's seems like a great idea for a horror movie (heck the game plays as though it's based on a classic 80's horror movie).  So we can be cautiously optimistic about the future.  Games have learned a lot from movies, as soon as movies learn not to simply appropriate a video game characters for a nostalgic chuckle and stop treating gamers as lonely, sexist losers, they may learn something from games as well.