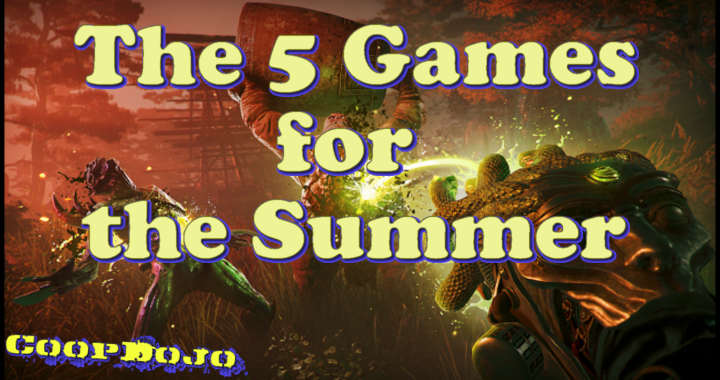 5 Games to Look Forward to this Summer!
It's been a great year so far for games between the surprising excellent Resident Evil 7, the interesting but flawed Breath of Wild, and some fairly good games in between. But all of that's behind us now and Destiny 2 in September is a LONG ways off still. Maybe it's just us but it feels eerily quiet right now for games.
We're not sure if it's school or work ramping down for the summer or the heat forcing us to stay indoors, but we want to start looking forward to games coming up over the next few months. E3's guaranteed to offer many opportunities to jump aboard the hype train but until then, after a bit of research, here are the 5 games we're excited about between now and the fall.
5. Shadow Warriors 2 (May 19th)
We're thrilled to say this one is finally out in just a matter of days. This one actually came out last October for PC to some solid reviews but us console gamers have been left high and dry until this next week. It's a fast paced, brutal Doom-like shooter featuring responsive melee combat (imagine that), a juvenile sense of humor that out Duke's Duke Nukem, and a fully realized coop mode. What more could we ask? Besides that it should have come out eight months ago but we'll take what we can get.
4. Rime (May 26th)
Developer Tequila Works has been entirely silent since their impressive debut, Deadlight, way back in 2012. Now they're releasing two games in a matter of weeks. The first, The Sexy Brutale, scored well enough with its time looping puzzle mechanic that seems to mashup Clue with Groundhog's Day in a way that feels thoroughly original. Next however, is Rime which looks entirely like a ripoff of any game from Team Ico but to us that's a good thing. We know very little about this indie title except that the devs are now two for two so we're counting on them to impress us with the hat trick.
3. Middle-earth: Shadow of War (Aug 22nd)
The previous Middle-earth: Shadow of Mordor game did something I did not think was possible – inject new life into the very tired world of The Lord of the Rings. This was largely due to the novel nemesis system and a satisfying combat mechanic much like Rocksteady's Arkham series. It's remarkably good. We're trying to stay in the dark on this one to avoid spoilers but we have high hopes that Monolith has some good ideas to merit the full fledged sequel.
2. Uncharted: The Lost Legacy (Aug 22nd)
Also launching the same day is Naughty Dog's next entry into the swashbuckling Uncharted franchise that's high on both story and body count. This expansion picks up not with Nate but with on again / off again partner Chloe Frazer and Uncharted 4's Nadine Ross as they team up to treasure hunt and kill like a billion guys (likely). Look, we give Naughty Dog a hard time for the callous take gunplay to prolong gameplay but they clearly know how to tell a story. Plus, the last story expansion, that time for The Last of Us, was phenomenal so we can't wait to see what happens here.
1. Cuphead (TBD)
We're not sure what else we could say about Cuphead. We've been looking forward to this one for a couple of years now since it debuted at E3. Like a modern Mickey Mousecapade, Cuphead promises a tough-as-nails fully coop experience affectionately rendered remisicent of the 1930s cartoonist Max Fleischer. The last we heard from the devs was this game is finally coming out in the middle of this year. Well, that's now…so, let's do this thing!
Any other games coming out this summer that didn't make our list? Let us know in the comments below!