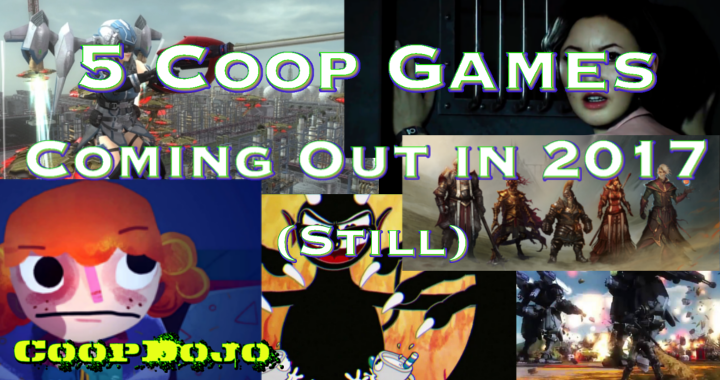 5 Coop Games Still to Come in 2017 (that aren't Destiny 2)
So here we are on the eve of Destiny 2, the game that will likely suck the air out of the room for hype for new games or games in general for the next several months.  We're eagerly watching the countdown clock on our PS4 to begin the weekly grind but we can't help but wonder what else is out there for coop games in 2017.  I mean, we can only do so many nightfalls and raids before we have to break up the monotony with something else.  Well, turns out the pickings are meager, sure, but here are 5 coop games to watch for this year when you're not distracted with Destiny 2.
Divinity: Original Sin 2 (9/14/17)
The original Divinity etc. is not for everyone but gamers that stick with it swear by it.  Quests were open ended with multiple solutions, combat was tactical and challenging, the game was rich with story if you're willing to read it.  Best of all it featured a coop mode.  Granted, we tend to enjoy faster paced titles but we understand the appeal.  The sequel due out soon increases coop capacity to 4 players and,
in early previews
, seems to go to even greater lengths to allow players to find innovative ways to solve some of missions.
Cuphead (9/29/17)
We're not sure what else can be said about Cuphead.  Since it's original E3
debut in 2014
(yes, it's been 3 years)  it's received enough press.  The novelty is starting to wear off and we haven't even had a chance to play the game yet.  But, we'll give this promising title a chance, especially since it features coop.  We'll finally get a chance to see if the hype was worth it later this month.
Hidden Agenda (10/25/17)
Until Dawn should not work as a game.  What should have been a crummy regrettable celebrity vehicle for Hayden Panettiere in a towel ended up being an absorbing party game as much fun to watch as it was to play (that still featured Hayden Panettiere in a towel).  The schlocky horror story started out as a fun slasher much like Scream until revealing the big bad which upped the stakes considerably for the final few hours.  I've never felt so stressed out not moving the controller.  Well
Supermassive Games
realizes they've tapped into a new genre with this party horror titles so Hidden Agenda ups the ante giving up to 5 gamers the ability to affect the gameplay by their mobile phone through
Playstation's Playlink
feature.  We're intrigued but, if you still somehow missed out on Until Dawn, go find a cheap copy, grab some friends and knock it out one lazy Friday evening.
Knights and Bikes (2017)
This looks like a treat
.  In our research of possible coop games, this indie mashup of The Goonies and Earthbound popped up quickly.  Developed by a few alums of Little Big Planet's Media Molecule and produced by Double Fine, this quirky unconventional title features teens Nessa and Demelza explore their island city seeking long lost Medieval lore buried in their community.  We can't wait to see what this is when it comes out later this year.
Earth Defense Force 5 (2017)
Not much is known yet about the next EDF but we've loved the last few games that distill out story, setup, or grinding to provide dozens of cooperative boss fights that pits you against giant monstrosities from space at the cost of the poor city you'll inevitably destroy.  If Destiny is getting on your nerves, this will be an excellent palate cleanser this holiday.
All right, guardians, we'll see you in the raids!