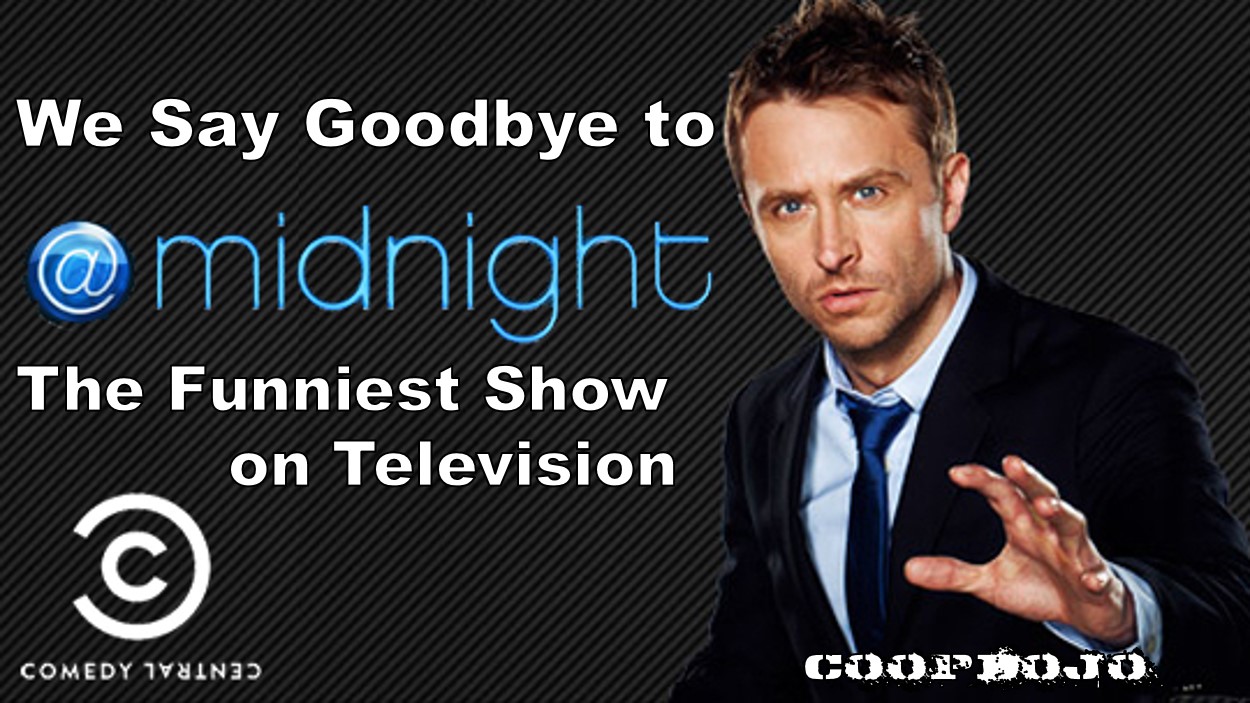 @Midnight Was The Funniest Show On Television
Tonight marks the final episode of @Midnight, a show that we always watch but never seem to talk about.  It's funny, I'll watch The Walking Dead or Fargo or Game of Thrones and complain endlessly about the direction the show is taking or about how the show isn't as good as it used to be.  I'll rave about a show that improves a bit like The Leftovers or Preacher.  And I'll moan endlessly about the wasted potential of a show like Better Call Saul as I watch every episode.  But the one show I'll watch religiously every night but never really talk about is @Midnight.  There is no other TV show that is as consistently funny as that show.  As other Comedy Central shows like Key and Peele, The Nightly Show and the Colbert Report departed and The Daily Show changed hands, @Midnight was always there and it was always funny.  As it draws to a close tonight, we want to take a second and praise this amazing show we never talked about but always watched.
@Midnight was a pretty radical alternative to the Daily Show and the Colbert Report when it premiered.  Both of those shows discussed current political issues and worked to sustain the audience's attention while doing so.  The writers at @Midnight didn't fight our short attention spans, they embraced them.  Three comedians were given a topic (usually a headline or funny internet video) to riff on and were awarded points based on whether the audience laughed at their jokes.  Topics were wide-ranging and rapid fire.  And Nerd Culture permeated all of it as Hardwick would reference upcoming games, superhero movies, or classic TV shows throughout (and his gif-sparring with frequent guest Wil Wheaton was always fun).  By 2013, we were already in an era where Nerd Culture had come out of the shadows, but his brand of comedy was Nerd Culture's Pride Parade.  Needless to say, that show was a must watch and still takes up about 50% of the space on my DVR.
The guests on the show were always great and Hardwick was amazingly skilled at bringing out the best from them.  Comedians we already liked like Patton Oswalt, Whitney Cummings, Nikki Glaser, Pete Holmes, Natasha Leggero, Jim Jeffries, Kyle Kinane, Jen Kirkman, Marc Maron, and Paul F. Tompkins got to demonstrate their improv skills.  We discovered new comedians too, like Flula Borg and Jonah Rey.  The reunion episodes (like the recent Kids in the Hall episode or The State reunion with Michael Ian Black) were always great.  We also always loved when a talent we liked proved to be surprisingly hilarious, like Kristin Chenowith, Wil Wheaton, Alison Brie, Paul Feig, Robert Kirkman, Dan Harmon, or Katee Sackhoff.  Probably the comedians to benefit the most from the show were Doug Benson and Ron Funches, two guys whose relaxed demeanor and slow pace delivery apparently conceal two of the quickest and sharpest wits in comedy today.
Comedy Central's reasons for letting @Midnight go are frustratingly vague, but we understand if both the network and the talent have other things they'd like to do.  The current Presidential administration is giving late night comedians more material than they can handle and so expanding their roster of topical shows makes sense.  Likewise, Hardwick will always have work interviewing guests and discussing Nerd Culture, something he has a real talent for doing.  But we're really going to miss the half hour we used to have that wasn't about politics and gave us a distraction from the chaos we see all day.  We'll miss that half hour of a funny comedian making other comedians even funnier like…I dunno, some upgrade in a video game that makes your weapon more powerful or a card you play in Magic the Gathering that makes your character stronger.  Sigh, if Chris Hardwick were writing this, he would have known what those things were called.