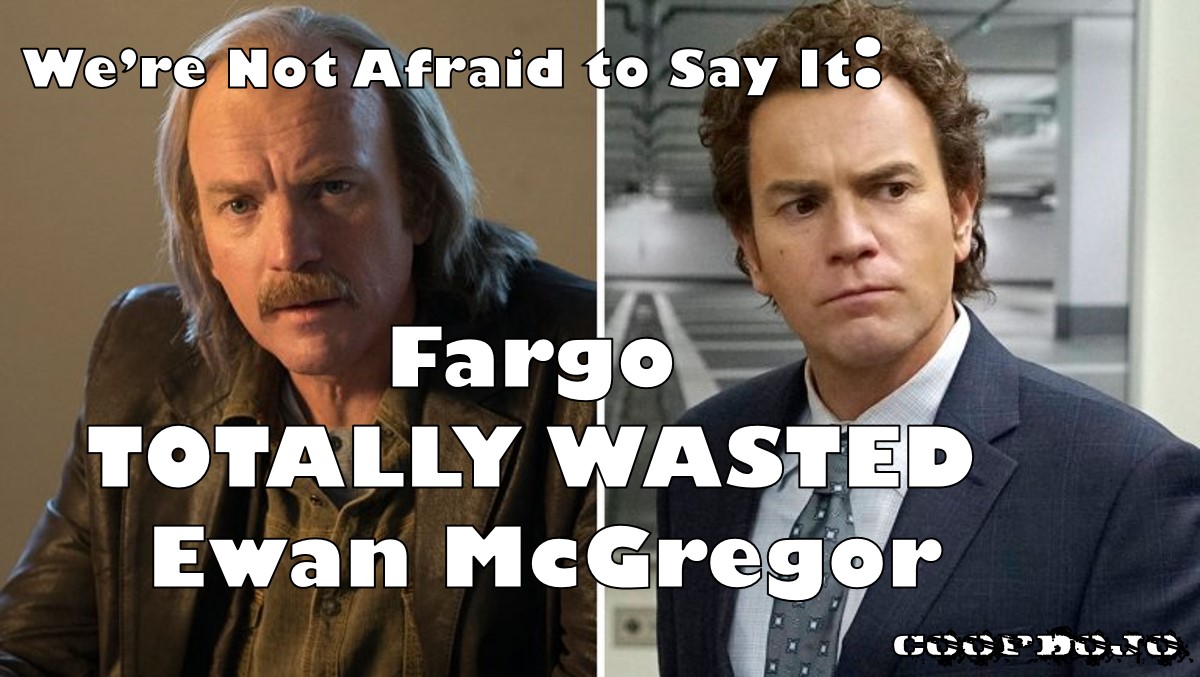 We're Not Afraid To Say It: Fargo Totally Wasted Ewan McGregor
Fargo is one of our favorite shows.  The first season was unlike anything we'd seen on television.  It was equally dark and funny, it was both cynical and hopeful.  It told a new story with several references to the Coen Brothers' movies.  In fact, it seemed to exist in a world where each of the Coen Brothers' movies had also existed, suggesting a fascinating cinematic universe (better than some, for sure).  The first season was really incredible and the second season was – in many ways, at least – even better.  This third season, unfortunately, has been a bit of a misfire.  Despite some fun dialogue and great action sequences, this season's been more a gloomy grind than any of the previous seasons.  The show seems to have become so heavy and dark by its third outing that – much like Anakin Skywalker – even Obi Wan Kenobi couldn't save it.
We were thrilled to see that Ewan McGregor was cast in Fargo's third season.  We figured Fargo was following its tradition of hiring movie actors who don't usually do television like Kirsten Dunst and Billy Bob Thorton (well he didn't used to).  Dunst and Thornton got some really great scenes during their time on the show (so did the perennially underrated Patrick Wilson); McGregor got nothing.  Outside of the novelty of seeing him portray two brothers, he didn't get one memorable monologue or dialogue in all ten episodes.  We held out hope until the very last episode that maybe some sequence would reward our patience and justify his casting in this surprisingly underwritten role, but that didn't happen.  Other than having his name on the headline, we're not sure why they cast a star this big in a part so small.
The highlight of the season has been the performance of David Thewlis as the evil and repulsive V. M. Varga (Thewlis is having a pretty great year).  Everything about his portrayal of this venomous character has been awesome.  The way he carries himself, his ludicrously pained facial expression, and his laconic enunciation of every line makes Varga a memorable presence.  The show's other secret weapon has been Mary Elizabeth Winstead as the determined but short-sighted Nikki Swango.  It's no accident that the show's best moments have featured Thewlis and Winstead facing off facing off against one another.  Much of the rest of the show has been a bit of a slog.  Good guys get stymied by bureaucracy.  Less good guys get stymied by bad guys.  And repeat and repeat.
McGregor isn't the only great actor utterly underserved by Fargo this season; Carrie Coon got to play the least interesting Fargo protagonist in three seasons.  As the effectual cop stymied by superiors (a regular feature on Fargo), she seems completely unable to anticipate obstacles no matter how consistently they reoccur (if you play Fargo as a drinking game, don't drink every time she seems surprised that her superior officer dismisses her entirely accurate conclusions).   She's stunned that she's not taken seriously,  over and over again.  But at least Carrie Coon got to be the most interesting character on the final season of The Leftovers (she's also having a pretty great year).  I imagine poor Ewan McGregor is probably done with TV altogether; it's all candlesticks and junkies for him from here on out.  Likewise, Fargo's probably done as a series as well, and if they can't do better with such great actors, then that's probably for the best.