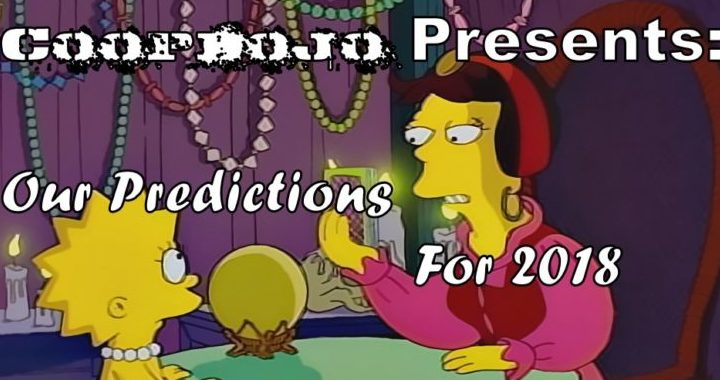 So our predictions in 2017 were kind of hit and miss.  We predicted that augmented reality would be driving the discussion in games by now and clearly AR is not.  For whatever reason, AR has stagnated after the success of Pokemon GO and we have not seen anyone really capitalize on this new technology.  We hit a few out of the park: we predicted Horizon: Zero Dawn would be better than Zelda (and it is!) and that Cuphead would be too difficult (and it was!).  Finally, we predicted that everyone would hate the Mako in Mass Effect Andromeda and it turns out that everyone hated everything about Mass Effect Andromeda (though we kind of liked it!).  So, with that in mind, we will cautiously roll out our predictions for what we expect to see in 2018.
Red Dead Redemption 2 Will Be Everyone's Game of the Year, but Our Favorite Will Be A Way Out
We're going to get a lot of cooperative experiences this next year, everything from Far Cry 5 to Sea of Thieves to Crackdown 3 to Metal Gear Survive, but the one cooperative  game we're most excited about is A Way Out, a cooperative title designed by the maker of Brothers: A Tale of Two Sons.  The game sounds like an evolution of Kane and Lynch with more gameplay options and several different ways to play through the adventure.  Normally a title this ambitious is something we would expect to promise a lot and deliver a little, but we have faith in the Josef Fares and we're hoping to be impressed.  Don't get me wrong, we're expecting to love Red Dead Redemption 2 but we think we're going to find something really special in A Way Out.
Another Superhero VR Will Be Announced
One of the best experiences we've had on VR this year was Batman: Arkham VR.  Batman VR worked because it was so much fun to be Batman in limited situations and see the world from his perspective.  So we anticipate that this next year we might see another superhero announced as a VR experience, but we're a little unsure which one.  It would need to be a superhero who would be fun to take the perspective of and who's movement it would be fun to experience.  One obvious candidate would be Spiderman, who has his own game coming this year from Insomniac.  Swinging through New York City was fun enough in the PS2 game from years back; as a VR experience, it could be really transformative.  Another more interesting option would be Superman, who was rumored (incorrectly) to be the focus for an upcoming Rocksteady game.  We haven't seen a good Superman video game in years.  It's definitely time for some company to take a shot and VR might be just the medium to use.
Skull & Bones is Going To Be A Hell of a Lot Better than Sea of Thieves
We were lucky enough to play a beta version of Sea of Thieves and we liked it fine.  The cooperative, cartoony pirate adventure looked like fun and we enjoyed playing it for a while.  It's cooperative and easy to pick up, but the pirating mechanic didn't seem like enough of a hook to inspire long term gaming.  Skull & Bones, on the other hand, seems to take the best aspects of Assassin's Creed: Black Flag and put them into their own game.   You sail and battle in a much more realistic world than Sea of Thieves presents.  Of the two, Skull & Bones seems to offer the more promising game of the year, but it also seems to be much less likely to actually appear in 2018 while Sea of Thieves should be appearing momentarily.  And speaking of no-shows in 2018….
No Anthem This Year
We're as excited as anybody about Anthem, Bioware's new IP.  Apparently their top folks were working on this instead of Mass Effect Andromeda, which may explain why Andromeda underperformed.  As excited as we are to know about the game, we don't anticipate we'll see an actual game until at least 2019.   Gameplay looks amazing and this may be the title to give Destiny some competition.  But something tells us that Bioware will take the time to get this one right and, if the game is as ambitious as we anticipate it will be, then there will be a lot of elements to lock in before the game premieres.  So while after Andromeda we're already cautiously optimistic, we expect we're going to have to be pretty patient as well.
Kratos' Son Will Be Playable
Yeah we predicted this last year and we're sticking with the prediction this year.  Maybe we will finally get to find out whether we got it right.