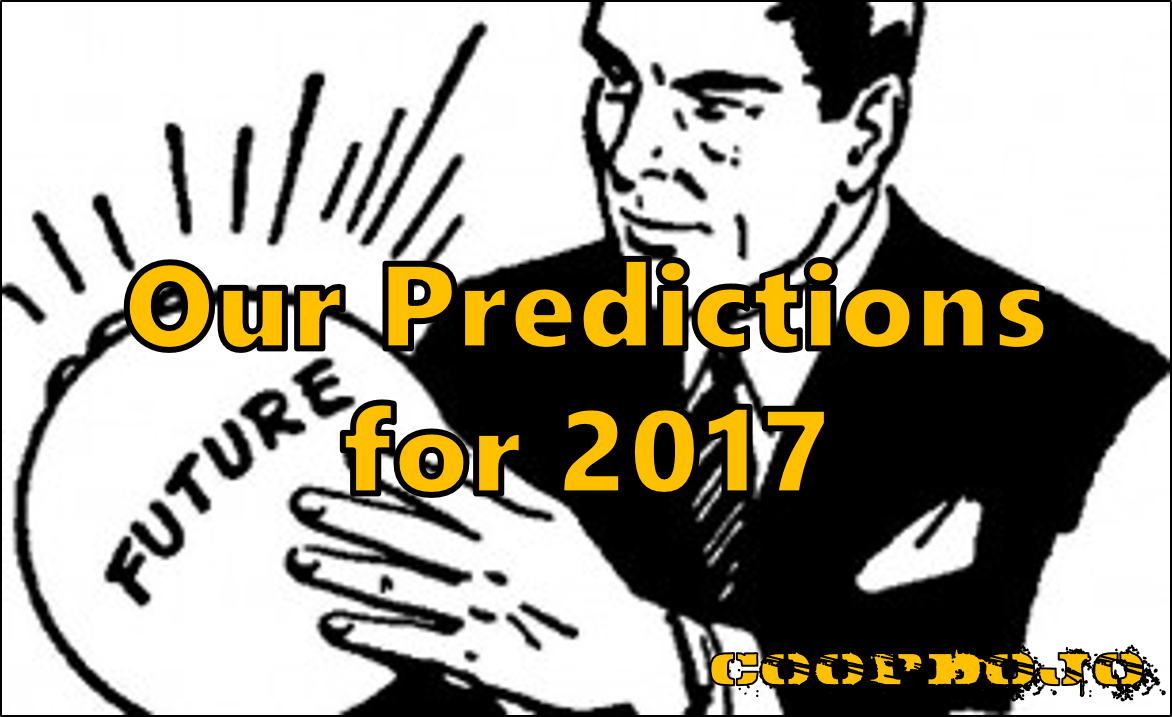 Looking back at our predictions from last year, I was really impressed with how well we nailed it.  We predicted Mass Effect's delay, The Last Guardian's ending, VR's slow start, No Man's Sky's disappointment, and Nate's brother's trickery.  If I had left it there, we would have had a perfect score.  But then I got greedy and wrote five additional predictions which did NOT come true (except for The Last Guardian being my Game of The Year).  Honestly, I don't know why I thought Rachet and Clank would be a financial success (worse, I totally missed Angry Birds).  So, with a humble heart, here are our predictions for 2017.
Augmented Reality Will Outperform Virtual Reality
Watching Augmented Reality and Virtual Reality in 2016 was an unusual experience.  VR tried so hard to impress with new titles and discounted gear.  You could play as Batman, or climb mountains, or simulate jobs.  Meanwhile, the most popular, headline grabbing game this year was a very simple Augmented Reality title, Pokemon Go.  We think Playstation has the upper hand in the VR market so far but it remains to be seen whether this technology will become part of the gaming world or become just a brief novelty that is quickly forgotten- like 3-D televisions and the Nintendo Switch.  Next year may be a make-or-break year for VR but, however well it does, we think Augmented Reality games will be driving the discussion next year.  They're more accessible in terms of technology and gameplay.  And, hey, if Playstation Vita is already making AR games, it's possible Playstation might own AR as well as VR by the end of the year.  And, between the two, we think they'll be better off with the AR.
Kratos' Son Will Be Playable
So many predictions about games for next year have centered around Red Dead Redemption (we agree it won't come out) and Mass Effect (we agree it will be awesome).  Kratos' return seems to be getting much less attention.  There is no release date for Kratos' next adventure yet but, even without a release date, we think Kratos' adventure has a pretty good chance of making a surprise appearance in late 2017. The gameplay and graphics we've seen look terrific and pretty well-developed.  In the footage, Kratos is defending his son against various demons in a new Nordic setting.  His son seems to be a pretty powerful (and responsive) NPC early on.  There are a lot of theories about who Kratos' son will turn out to be but there's one thing we know he is: playable.  If our experiences with The Last of Us and The Witcher 3 have taught us anything, it's that the defenseless ward eventually becomes a playable character.  At some point in the game, you'll be playing as Kratos' kiddo.
Cuphead Will Be Too Hard
Cuphead is the bizarrely delayed old-school platformer with the Disney-esque graphics that always reminds us of Mickey Mousecapade.  People are going to love the cartoonish graphics and throwback gameplay, but the consistent complaint you'll hear is that the game is just too darn hard.  Platforming games can be difficult enough as is; replaying old titles on Nintendo and Sega over the holiday reminded me how merciless classic games can be.  As good as it looks, Cuphead looks to capture that same classic spirit, which means it's going to be hard as hell to play.  Like Nintendo's Battletoads and Sega's Batman and Robin, it'll be one more coop title that is just too difficult to enjoy.  However, given the awesome graphics and environments, I'm sure it will be a great game to watch someone speedrun through.  That someone, though, probably won't be us.
Horizon Zero Dawn Will Be Better Than Zelda
Horizon Zero Dawn and The Legend of Zelda: Breath of the Wild will both drop this year and both promise similar experiences.  They are both open world games in which you hunt monsters in a large sandbox kingdom.  Horizon's monsters are terrifying robots built to resemble dinosaurs and other prehistoric creatures (and other things) while Zelda's monsters maintain that brighter, cuter Zelda style.  We're betting that Horizon provides the better experience with more interesting battles, a more compelling story, and more streamlined gameplay.  We're very interested in seeing whether Horizon turns into a Colossus/Tomb Raider hybrid it could be or not, but it already is one of the most creative looking games this year.  Meanwhile, Breath looks like the Zelda game we should have seen ten years ago, at the height of the open-world games.  To be clear, while we think Horizon will be better, we don't anticipate that the game ratings will reflect this; gamers and writers tend to rate Nintendo on a curve (and Zelda will be – hands down – the best game on the Wii U, as would almost any Xbox or Playstation game released on the Wii U).  But, comparing the two, we think Horizon is going to provide the better experience.
Everyone Will Hate the Mako
We struggled with our predictions for Mass Effect: Andromeda.  Like everyone else, we also think it will be the Game of the Year for 2017.  The graphics look amazing.  The story sounds interesting.  The universe you explore looks vast and exciting.  It's the kind of game that we didn't really see in 2016 and we anticipate spending dozens and dozens of hours playing it.  However, as the awesome Paul Tassi notes, we know surprisingly little about what may be the best game of 2017.  So we're sure the game has some surprises for us that we can't anticipate.  However, from what little we know, we think we know the one thing everyone is going to be complaining in the new Mass Effect: the Mako.  God bless the designers for their persistence, but everybody always complains about the Mako.   Most designers would throw up their hands and drop the feature all together; Mass Effect 2, for example, had no Mako and is widely-regarded as the best game in the series.  The new game, however, promises a new Mako experience and maybe – just maybe – the designers have figured out how to do it right.  But, if we had to bet, we would bet the Mako will be the #1 complaint in 2017's #1 game.