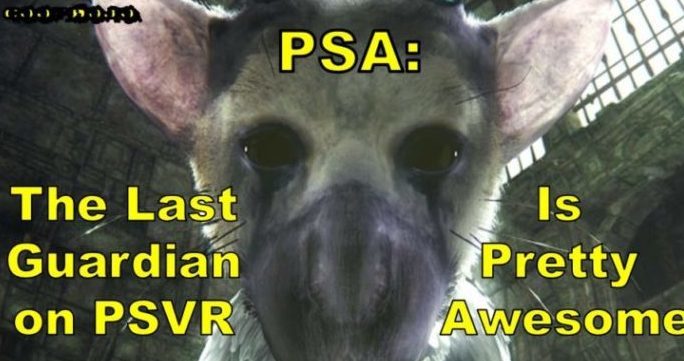 PSA: The Last Guardian VR is Pretty Awesome
The Last Guardian was my holiday highlight last year.   The latest game from Fumito Ueda is reminiscent to and different from his previous titles of Ico and Shadow of the Colossus.  The game puts you again in the ruins of an ancient kingdom inhabited by supernatural enemies (like Ico).  You explore these ruins with Trico, a friendly, feathered colossus who's massive size and agility helps you solve the puzzles you encounter.  Whether or not you loved The Last Guardian probably depended on whether you connected with Trico; if you loved his independent but often affectionate demeanor, you probably didn't focus on his capriciousness and occasional inability to follow directions (plus there is That One Puzzle that nearly broke the game for us).  For me, I loved Trico, so I remember spending the game fondly bonding with him rather than frustrated with his inability to follow directions.
The Last Guardian on PSVR seems to take everything I love about the game and enhances those experiences.  The game utilizes the teleportation method of movement, so the locations you can travel to are limited.  While this can feel a little constraining, here it helps focus on particular locations and cuts down on the confusing roaming I experienced in the original game.  Trico, too, is well rendered here.  When he first interacts affectionately with you, it's downright moving.  Riding on his back later is also fairly exhilarating.  The best part is that Trico seems to be a little more focused on problem solving here and quickly helps solve puzzles pretty directly.  I'm not sure how all of the puzzles in the original game will translate to the VR, but even if the final game is a streamlined walking simulator, I think I'd be pretty happy with that.
The PSVR experience is pretty brief and won't take you longer than thirty minutes to play (and that's assuming that you, like me, spend a bit of time marveling at the backgrounds).  At a distance, Trico seems to have a bit of a shimmer that I hope can be tightened up in updates.  But up close, Trico looks amazing and hearing him sniff you while he nuzzles you will make you smile.  The game made me wonder about other titles that would be fun to experience this way.  Titanfall 2, for example, could work really well.  That game had one of our other favorite non-player characters ever and getting to know him again would be a great experience.  Horizon: Zero Dawn, with its sweeping vistas and deep characters, also has potential.  Portal also seems like an obvious addition (which is probably why it will never happen).  Any game the develops a detailed world with engaging characters would be great to explore in VR.
I have no idea when or if we can ever expect a full game.  I was excitedly looking for some kind of official title, but I can't find any announcement of a longer game anywhere.  I am starting to think this game is a demo for VR and not a longer Last Guardian VR title.  Even if a full game was coming, given The Last Guardian's extended development timeline, we'd be waiting years to see it.  Meanwhile, for a free demo, this experience is a lot of fun.  Whether or not you liked The Last Guardian last year, you need to spend some time with this new adventure.  The environments are still detailed and beautiful and Trico is still one of my favorite characters ever.  So take a break from spending all of your money on presents for everybody else and download this free title to spend some time with Trico.  He's a lot cuddlier and smarter than you remember.