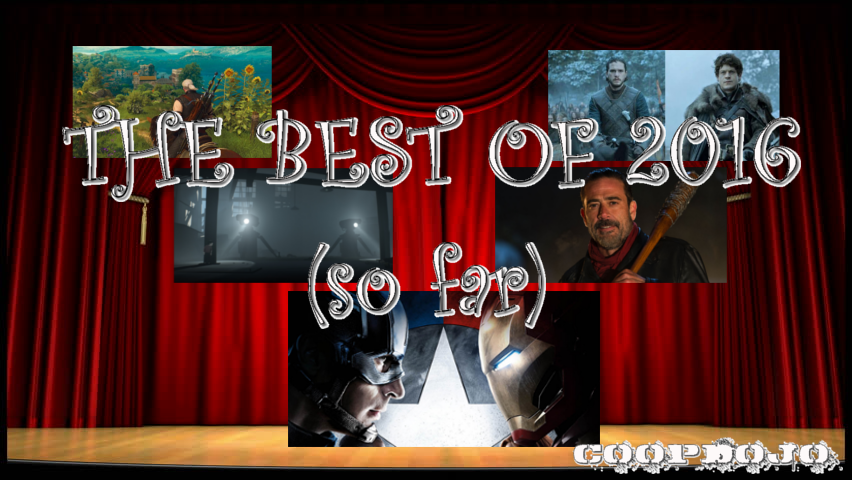 The Best of 2016 (Part 2)
I remember months ago thinking that this summer was going to be one of the geekiest summers ever.  Several new superhero movies, a new Ghostbusters movie, a new Star Trek movie, and the awesome No Man's Sky were about to arrive.  Cut to a few months later and some of those movies were great, most were ho-hum, and we're still waiting for No Man's Sky.  Still, we can't let the summer slip away from us before we review the second quarter of 2016.  We've gone through most of the summer movies we were looking forward to (with one exception) and most of the games we have been anticipating (with one exception).  There's a lot of great games, shows and movies out there.  Here's what we've seen of the best of 2016.
Best of Summer 2016: Television
It's been a great season for TV.  The two shows that captured everyone's attention have been The Walking Dead and Game of Thrones.  The Walking Dead is continuing its run of solid episodes but ended with one of the more frustrating cliffhangers we've seen on television as the long-awaited Neegan killed somebody with his bat.  Game of Thrones hit the accelerator and delivered a series of episodes that moved the plot forward in leaps and bounds and removed a lot of extraneous characters.  Still, as much as we're enjoying the show, it's clear that the end is near.  We're definitely going to miss Game of Thrones when it's gone (though not as much as HBO).  Our underdog favorite these last few months was Penny Dreadful which end its run with a series of strong episodes and amazing performances by Eva Green.  For comedies, Veep was the undisputed funniest halfhour on television but Silicon Valley had a funny and remarkably insightful season exploring the meaning of the modern corporation.  We should also make a quick shout-out to two other comedies we're enjoying: Angie Tribeca (imagine an updated Naked Gun) and Wrecked (imagine a belated Lost parody).  We've had two good shows about preachers facing supernatural forces: AMC's funny but fairly excessive Preacher and Cinemax's creepy exorcism horror show Outcast.  Both shows cover similar concepts but couldn't be more different in tone.  Netflix also continued providing great shows like the 80's-style horror/adventure story Stranger Things and the bittersweet manic comedy Lady Dynamite.  Man, that's a lot of great TV in just a few short months.
Best of Summer 2016: Movies
It's a good thing television has been so strong these last few months because movies haven't been giving us much to work with.  A list of the best movies of 2016 so far starts and stops with Captain America: Civil War.  That movie boasts a great cast, great characters, and the best superhero battle we've ever seen on film.  Ghostbusters delivered a fun comedy that was neither the end-of-the-world movie the critics expected nor the instant classic the original was (but was definitely better than Ghostbusters 2).  Xmen: Apocalypse felt like a wasted opportunity with a series of solid actors stuck in a 1990s-style costume parade.  Watching actors we love like Olivia Munn and Oscar Isaacs strapped into costumes and given no room to create a character was frustrating.  Other sequels were good but not great: Finding Dory was certainly enjoyable (but no Nemo), The Neighbors 2 was funny (but not as funny as the first), the unnecessary Tarzan was interesting but unremarkable, and Star Trek Beyond was definitely more fun than Into Darkness (but was still no Wrath of Khan).  Being honest, it hasn't been a great summer for movies.  As we anticipated, once we saw Civil War, we'd seen the best we were going to see.
Best of Summer 2016: Games
With the delay of No Man's Sky, gamers like us were left scrambling to find something to play to fill the hours.  There were some good but not great sequels.  Uncharted 4 and Doom were very well done games if somewhat uninspired (and, seriously, how many men can Nathan Drake kill before he becomes known as the archaeological Rambo?).  The long-awaited Mirror's Edge sequel was similarly uninspired but, unlike those other titles, it was also pretty bad.  Quantum Break was probably our biggest heartbreak; we had high expectations that were dashed by repetitive gunfights and cliched gameplay.  On the bright side, Dark Souls 3 was a great return to form for that franchise (if you like that kind of thing).  Inside also impressed us with its solid platforming, great graphics, minimalist storyline and bonkers final act.  Inside was a great but brief experience, leaving us with lots of time on our hands.  Fortunately, we had two heroes ride into town to save the day.  First, we've been loving spending time with Geralt's last DLC expansion Blood and Wine.  That expansion actually provides a new country to explore that is somehow even more beautiful than the previous places we've been.  Second, The Witcher's spiritual predecessor, Red Dead Redemption, was updated on the Xbox to help us fill the hours as well.  It's hard to think of a game that holds up as well as Red Dead Redemption but the game is still amazing (and we haven't even gotten to the Undead Expansion yet!).
The Winners
This is definitely a great summer for quick playthroughs like Inside or longer adventures like The Witcher: Blood and Wine and Red Dead Redemption.  The best movie – by far – this summer is Captain America: Civil War (but Ghostbusters and Star Trek Beyond are fun too).  And, as you have been doing, keep watching Game of Thrones and Walking Dead but think about checking out Penny Dreadful, Stranger Things, Veep, Lady Dynamite, and Outcast.  Meanwhile, we can't wait for Suicide Squad and No Man's Sky to close out the season.  August is gonna rock!