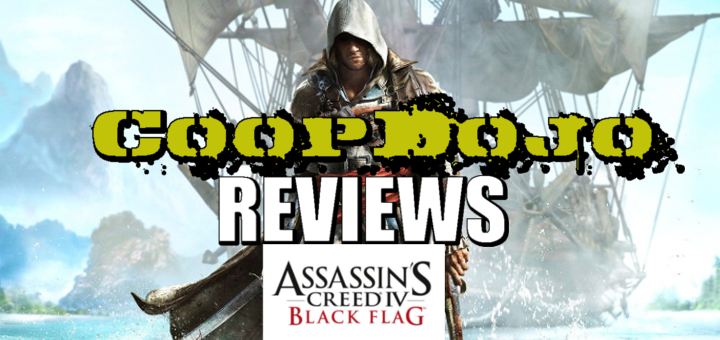 Assassin's Creed 4: Black Flag – The Review
As summer is starting to wrap, we're finishing up our gaming backlog by looking at Assassin's Creed 4: Black Flag. It has been a long time since we played a Triple A title and thought it lived up to the hype. Titanfall didn't really knock us over. As expansive as it was, Grand Theft Auto never really engaged us in its sprawling plotline. Even the previous Assassin's Creed game couldn't keep our attention long enough to introduce the central character. Rest assured, though, that Assassin's Creed 4: Black Flag, however, does a great job accomplishing what it sets out to do.  Here's our (belated) review of Assassin's Creed 4: Black Flag.
In the game, you play as a pirate who steals an assassin's armaments and masquerades as a member of the assassins. Fortunately, you are apparently a natural-born assassin and a pretty good pirate captain. You meet a variety of characters across the game some of whom make a much bigger impression than others (I am not 100% sure why I had to kill some of these guys but whatever!). Meanwhile, your overarching goal becomes to find the mysterious Observatory which is central to the plans of the evil Templars, the heroic Assassins, and some other folks as well. Will your protagonist learn to abandon his selfish interests and embrace the assassin's creed? You'll have to play to find out, but you can probably guess.
What makes the game great is not the plot; it's that the gameplay works really well. You spend the game engaged in a variety of tasks (diving, hunting, fishing, assassinating) but the most fun you'll have is pirating. You can arm your ship, pick a target, and blast them to bits with your cannons before boarding and fighting the rest hand-to-hand with your crew. As you develop some skill in this, engaging a caravan of ships becomes as much fun as diving in to a gang of criminals in Arkham City. Fighting is also so well done that sometimes I abandoned stealth to simply engage in swordplay. The most fun I had, though, was in sneaking into an enemy camp, finding a stealth position, and then using darts that drive soldiers insane to get soldiers to attack each other.  Most every mission gives you a lot of ways to play through and a lot of tools to play with.
The flaws in the game that aggravated us were – annoyingly– the same flaws we've experienced in numerous Assassin's Creed games before. Yes, there are too many missions where you track a target and eavesdrop on a conversation (worst still are the times you have to track a ship from your ship) where a false step can end the mission suddenly. Fortunately, the game gets you back in the action extremely quickly (are you listening, Thief!). Yes, you do spend time in a very mundane reality (I'll never understand why I can't simply play game about a pirate, instead I play a game about a guy playing a pirate game) but these scenes are pretty brief.  And yes, the final battle is just you stabbing an old defenseless guy but at least it isn't the Pope this time.
What the Assassin's Creed franchise is doing now in terms of expanding their genre (assassination) into other genres (pirating) works well here.  The game does three things extremely well: reloads are extremely brief (no running around the ether after you die), the game has a ton of content, and the core gameplay (pirating and assassinating) are extremely fun.  The game certainly wouldn't work if pirating wasn't as much fun as it is but this game is far and away the best pirating game we've ever played. The game is definitely long enough as well (we played for probably 12 hours just barreling through the main storyline; there were dozens and dozens of side activities we didn't get to). We were really heartened by this game and find ourselves looking forward to Unity this fall. AC3 felt like a bit of a misstep to us, but AC4 works well and really is worth a playthrough if you haven't tried it already (and it's a steal at $15).
So having said all that, let's talk about our final score.
Graphics: 90
The game looks great on the Xbox 360.  Waves roll, animations are fluid, and the vistas look amazing.  We had some technical hiccups here and there, but nothing game breaking (just amusing).
Gameplay: 90
 Pirating is a blast in this game, up there with brawling in Arkham City.  Fighting is well done also.  Other events (such as tracking and eavesdropping) or not as much fun, though those events are pretty rare in the overall game (however, you will encounter them quite often in the main quest).   This game is a lot of fun.
Replayability: 90
It's hard to say whether we will actually pick up and go through the entire quest again, but we could see picking up a controller and spending an hour terrorizing the seas, or attacking the powerful legendary ships, or following one of our maps to some hidden treasure.