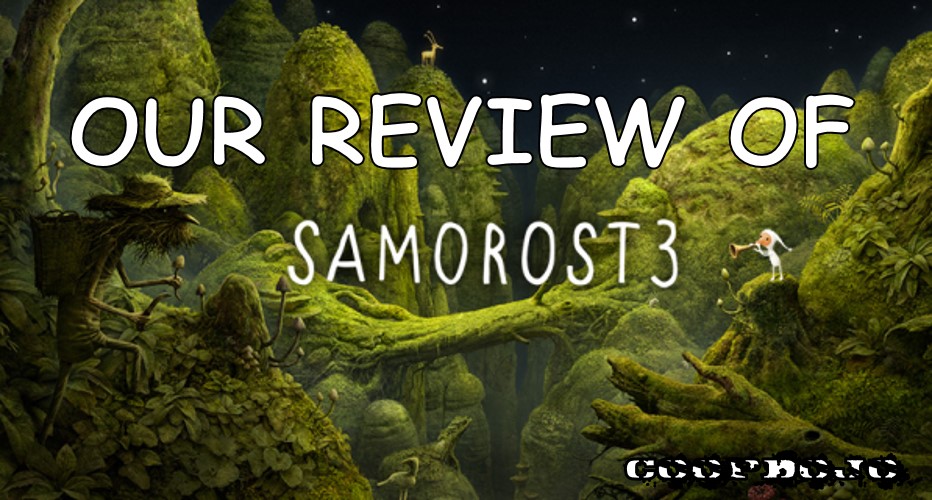 Between Love You to Bits, Batman, Oxenfree and the return of Day of the Tentacle, last year was a great year for point-and-click adventure games.  One great one that I totally forgot last week was Samorost 3, one of the most novel and creative games I played last year.  The games that Amanita Designs makes are always impressive and Samorost 3 is no different.  It may not have the same highs as Machinarium and Botanicula (everyone must play Botanicula!), but it's another magical and unusual title from one of the most creative studios around.  For that reason alone, it oughta be on everyone's top ten list.
I haven't played the previous two Samorosts, but I picked up the plotline here quickly enough.  Your hero (the "gnome") finds a magical flute and starts a quest to return the flute to its owners.  You visit several mini planets (which divide the game up nicely) on your quest and interact with a wide variety of unusual creatures.  As with most point-and-click games, there's no way to die in the game and the puzzles are extremely creative and different.  The beauty of the worlds you visit, the variety of creatures you encounter, and the innovation in each of the puzzles is really striking.  If Jim Henson and Hayao Miyazaki got together to make a game, it might look something like this.
Samorost 3 wisely includes hints for solving each of the puzzles you encounter.  The puzzles are never unfair, but they can be very abstract and difficult to spot.  I played the IOS version of the game on my phone and – on occasion – I had a little trouble recognizing where the game wanted me to go.  The hint system helps a great deal here; it doesn't tell you what to do exactly but it does identify points of interest you may have overlooked.  The game also wisely hides the hints just behind a quick puzzle you have to solve which lets you have one last chance to change your mind.  That extra moment of reflection keeps you from simply using the hints as a walkthrough, which is good as these puzzles should be experienced all the way through.
Samorost 3 might not hit the same emotional highs as Machinarium (with its adorable protagonist) or Botanicula (with its team of unlikely heroes), but that says more about the strength of Amanita Design's titles than any weakness in Samorost 3.  Amanita Designs has such a unique vision and style that if you like one of their games, you'll like them all (and everyone should really play them all).  I'm still kicking myself for forgetting this game on my list of the best of 2016; games this different, unique and fun always deserve more attention than they get.
The Best Parts
Amanita Designs comes up with puzzles unlike anybody else.  The game is beautiful and adorable and unlike anything I'd played before (just like all of their games).
The Worst Parts
The game is great but some of the puzzles can be a little vague and frustrating.  Playing on a phone can put you at a disadvantage when it comes to spotting areas of interest.
OVERALL: TRY IT
I really enjoyed my experience with Samorost 3 and I didn't play anything more unique in 2016.  Sure, it didn't quite blow me away as much as Botanicula did, but it's one of best of 2016.  If you like puzzle point-and-click adventures, then you should check this one out.